VideoToDroid
is a lightweight video conversion program that wraps around the very functional and capable ffmpeg console application in an invisible and friendly manner. With some simple drag-and-drops, you can easily convert any video for playback on a Motorola Droid device running Android OS.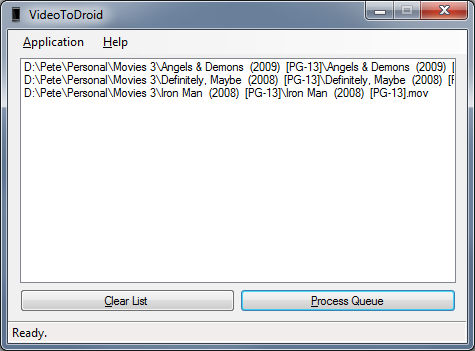 Features
:
Automatically lowers the resolution if it exceeds that of the Motorola Droid.
Drag-and-drop interface allows queuing up a large number of videos to be trascoded while you're away at work or sleeping!
Quality (bitrate, size, etc.) settings.
Limitations On Use
:
This download is freeware. All features of this program are available for all to use freely.
Liability
:
I maintain no liability or warranty for the use of this program in any situation.
Download
:
Click here
to download
VideoToDroid
version 1.01 (3.6 MB).